48st Neukölln – Fortuna
26 juin 2022 @ 16 h 30 min

-

17 h 00 min

€5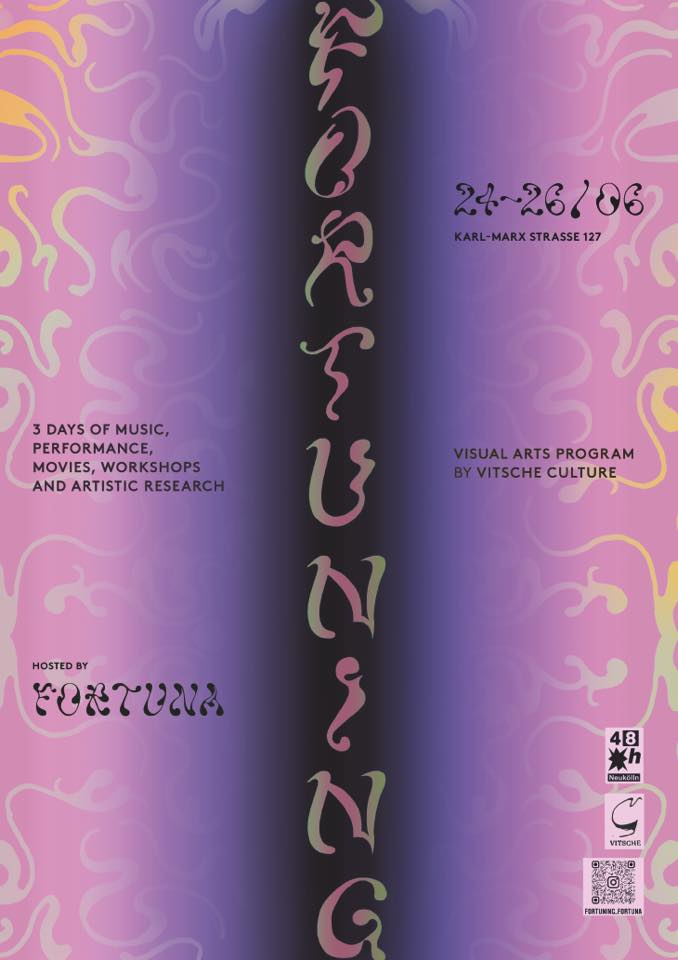 Je jouerai ce dimanche pour la clôture du programme de Fortuna. Je vous conseille de jeter un oeil aux artistes programmés du vendredi au samedi, il y en a pour tous les goûts !
I will be playing this Sunday for the closing of the Fortuna programme. I advise you to have a look at the artists programmed from Friday to Saturday, there is something for everyone!
PROGRAMME
FRIDAY JUNE 24 = DAY 1:
Jardin des faux pas (hosted by Jule Flierl & Hermann Heisig) + Soft Karaoke (hosted by Anna Zett)
19:00- 00:00
19:30 Intro
20:00 School of Attunement and Tactlessness
Choreography: Jule Flierl
Performance: Ayşe Orhon, Parvathi Ramanathan, Priiya Prethora, Shai Faran and Sonya Levin
20:45 Schallgarten
Idea: Hermann Heisig
By and with: Elpida Orfanidou, Thomas Proksch, Roger Sala Reyner, Hermann Heisig
22:00 Soft Karaoke hosted by Anna Zett
See program in detail: https://www.facebook.com/events/754783379306253
*****
SATURDAY JUNE 25 = DAY 2:
CORNUTOPIA (hosted by Thomas Proksch, visual arts program by Vitsche Culture)
14.00- 00.00
14:00 Cinema: RHIZOPHORA by Davide De Lillis and Julia Metzger-Traber – 16 min; Melanie Bonajo
15:00 TECHNOCUMBIA with Sharon Mercado Nogales (Dance Practice)
16:30 Cinema: OSCITATIO by Rocio Marano, Music by Rocio Marano, Performers : Deva Schubert, Angela Muñoz – 6 min; INVOCATIONS OF REMEMBRANCE by Paola Bascon, Sound by Thomas Proksch, Performers : Areli Morán, Sharon Mercado Nogales, Thomas Proksch – 15 min
17:30 AI ORACLE by Ruth Mariner, performed by Alice Colley (Performance)
18:00 SCI FI ANATOMY with Lea Kieffer, Sound by Thomas Proksch (Guided Meditation/ Sound Journey)
19:30 Cinema: SHADOWS by Davide De Lillis, Music by Moss Beynon Juckes – 5 min; DYSTOPIAN STUDY by Abraham Hurtado, Sound by AL La Algaida – 23 min
20:30 EXTRA SENSORY PERCEPTION with Penelope, Samim, Ememe (Concert)
21:30 BITTE AUSSTEIGEN by Mateo Pelusia (sing along screening)
22:30 MAQUE PEREYRA (Concert/ DJ Set)
(0:00 DJ d4z4)
See program in detail: https://www.facebook.com/events/3317622948520388
*******
SUNDAY JUNE 26 = DAY 3:
Cellular Landscapes (hosted by Anne Zacho Søgaard)
12:00- 17:00
12:00 -16:00 Immersive Porridge Lounge
hosted by Anne Zacho Søgaard, performative appearance: Hermann Heisig and Thomas Proksch. Space: Franz Rautenstock
13:00 SWAY by Shannon Cooney (participative format)
15:30-16:30 Das Stickige Schweigen/ the sticky silence (AT) Tryout by Juliane Meckert.
16.30-17 Reflection Space featuring Morgane Neplaz (Harp/Voice)
See program in detail: https://www.facebook.com/events/550918836579262